With sustainable living at the forefront of most people's minds right now, there are many compelling reasons to create an eco-friendly home. Investing in some changes to your property could make a big difference to its value and the sale or rental price you're able to command as a result. And, with several government subsidies available, doing so could be more cost-effective than you think!
Advantages of Creating an Eco-Friendly Property
The key benefits of investing in some alterations to create a more environmentally-friendly house include the following:
Increases the property's value
Makes the property easier to sell
Lowers the living expenses of prospective tenants
Reduces tenant turnover
Ways to Make Your Property Eco-Friendly
Instal a Solar Power System
Installing solar panels is one of the most effective things you can do to create an eco-friendly home - plus, they'll significantly cut your tenant's electricity bill, making their presence an attractive proposition for homebuyers or renters.
True: there is a fairly hefty initial outlay to getting your solar power system up and running. You can expect to pay in the region of $15,000 to $25,000. But there's good news. In a bid to promote eco-friendly living, the government is offering energy incentives and investment tax credits for those who choose to install solar panels in their properties to the tune of 30% throughout 2023.
And in terms of overall savings, the average solar power system will save the resident between $20,000 and $90,000 over its entire lifetime.
Water Saving Devices
Incorporating a few simple water-saving devices around your property can also add up to a big saving for prospective buyers or tenants. Shower timers, leak detectors, and toilet flush reducers are just a few examples of devices that can save water in the home.
When buying new water-using items or utilities for the home, check for the WaterSense label, which indicates that the item is at least 20% more water efficient than a standard model and will function to the same standard. To give you an idea of how much residents can save, replacing old bathroom faucets with WaterSense versions will likely add up to a saving of around $250 a year.
Energy Efficiency Systems
Auditing and making some tweaks to your property's energy efficiency systems are also great ways to boost those all-important sustainability credentials of your eco-friendly home. Checking how efficient things like your windows, doors, and HVAC systems are and replacing older items with newer, energy-efficient models will not only make the property more attractive to buyers and tenants but will help increase its value, too.
Importantly, properly insulated homes are less likely to need repairs due to dampness and other issues. You may also want to take the opportunity to conduct a wider audit to look at, for example, the property's plumbing and wiring systems.
As with solar panel installations, government subsidies are available for many energy-efficiency home additions and alterations in the form of residential energy credits and similar tax credit schemes for commercial properties.
LED Light Bulbs
Switching out the standard light bulbs in your property with LED versions is a simple, cost-effective way to create a more eco-friendly home. While the savings may seem small, they add up: the average tenant will save around $1,000 on electricity over five years in properties that are lit by LED bulbs as compared to standard bulbs.
You can expect to pay around $6 for a 12W LED light bulb. Given that the average home in the USA uses forty lightbulbs, that's an additional outlay of approximately $240.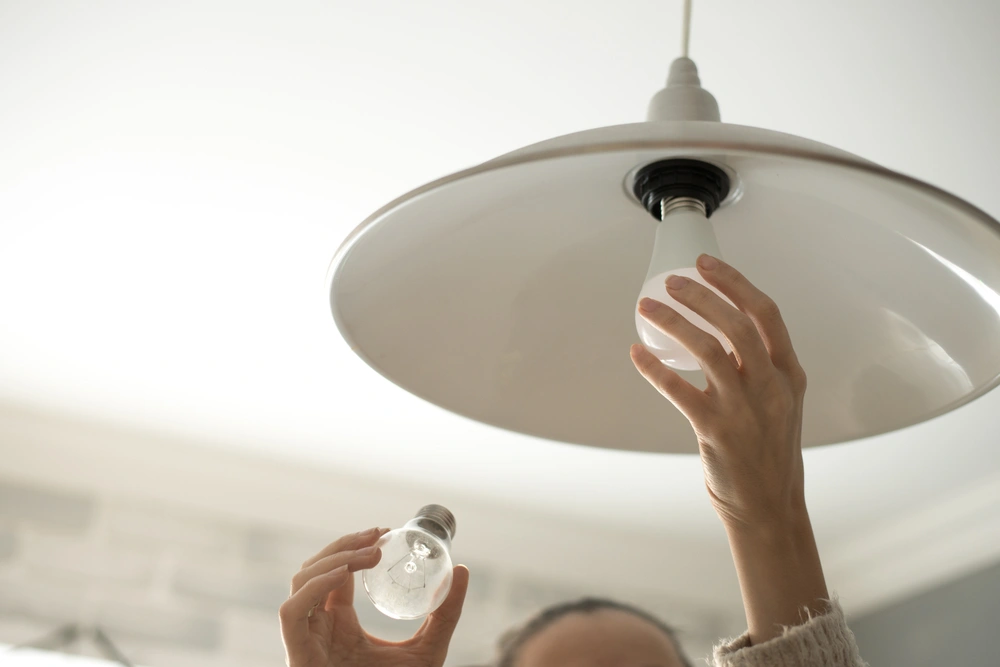 Energy Efficient Appliances
Replacing old appliances that consume a lot of energy with newer models is a great step in creating the sort of eco-friendly home that many buyers and renters are now looking for. When choosing new appliances, look for the Energy Star, a labeling system designed to help you identify the most energy-efficient products.
In terms of the sort of money your tenants or buyer could save, simply upgrading from an old G-rated fridge to a newer D-rated model will save around $600 over its lifetime. Plus, a home fitted with new energy-efficient appliances is a major bonus for eco-conscious house-hunters and is likely to reduce maintenance issues for you as a landlord.
Smart Thermostats
A smart thermostat can be used to control the temperature in the home and can typically be controlled via a smart speaker, phone, or other internet-enabled devices. They can usually work in conjunction with other elements of a home automation system and 'learn' the preferences of the residents when it comes to heating and cooling.
Installing a smart thermostat is a relatively quick and easy job, although one usually best left to a professional. Expect to pay in the region of $130 to $500 for a smart thermostat - however, with research suggesting they save the average family in the US $131 to $145 a year, they'll quickly pay for themselves.
Electric Vehicle Charging System
Installing an electric vehicle charging system can add significant value to your property - plus, you may be able to get a subsidy for the installation from the government. Landlords can now claim 6% worth of tax credits on units up to a value of $100,000 through 2023.
With so many people switching to electric vehicles as part of a bid to live more sustainably, the presence of a charging system on your property could seal the deal in your favor for potential new tenants or buyers. It'll cost you around $300 to $1,200 to install a home electric vehicle charging system that allows for the charging of two vehicles.
The Bottom Line: Tips for More Sustainable Living
As well as the above installations, alterations, and switches, there are plenty of things residents can do towards eco-friendly living. For example, choosing to buy second-hand furniture and other household items where possible can both save money and keep things out of the landfill, while committing to weekly meal planning can make a big difference regarding food waste.
Simple steps like only running the washing machine or dishwasher when full, choosing environmentally-friendly cleaning products, opting for plastic-free personal products, and recycling as much as possible will all help towards greener living.