Georgia is a diverse and vibrant state located in the southeast right above Florida. With a population of over 10 million people, it is one of the most populous states in the country. Georgia has a mix of urban and rural areas, from bustling cities like Atlanta to charming small towns like Madison and Senoia, the latter being famous for being the filming location of the hit series The Walking Dead.
Georgia has a large and divergent real estate market, with cities like Atlanta offering a thriving scene for both residential and commercial properties. Despite the rental market in Atlanta being classified as "warm", rental listing site Zillow reports that rental prices in the city have dropped from 2022 to 2023, but is still 3% higher than the national average.
In the more rural areas of the state, there are plenty of opportunities for those seeking a more serene and spacious living environment. The state's affordability and favorable business climate have also attracted investors, contributing to the overall strength of the real estate market in Georgia.
What is landlord insurance?
Landlord insurance is designed specifically for properties that are being rented out, unlike homeowner's insurance, which is intended for properties occupied by the owner. As the risk assessment for a rental property is different from that of an owner-occupied property, it's very important to have an insurance policy that provides customized coverage to address the additional risks involved in renting out a property.
In addition to protecting the physical structure of the home, this type of insurance typically offers a more comprehensive liability coverage package, including general liability and medical expenses coverage. Landlord insurance can also provide coverage for loss of rental income in certain cases where the rental property becomes temporarily uninhabitable.
Some of the most important coverages for landlords are:
Dwelling coverage: This coverage focuses on protecting the structure of the property. It's crucial to ensure that your policy covers the replacement cost rather than the actual cash value. In the unfortunate event of a total rebuild, you want to be confident that your insurance will fully cover the expenses.
Liability coverage: As a landlord, having general liability coverage is vital. It goes beyond personal liability coverage and can protect you if you are legally responsible for harm or damage to a third party on or near your property. This coverage may include expenses related to legal defense, settlements, or court-awarded damages resulting from a lawsuit.
Business income coverage: Landlord insurance can also provide coverage for lost rental income if the property becomes temporarily vacant due to a covered peril. For instance, if you need to evacuate a rental unit for 15 days to repair a windstorm-damaged roof, your landlord insurance might cover the loss of rental income during that period.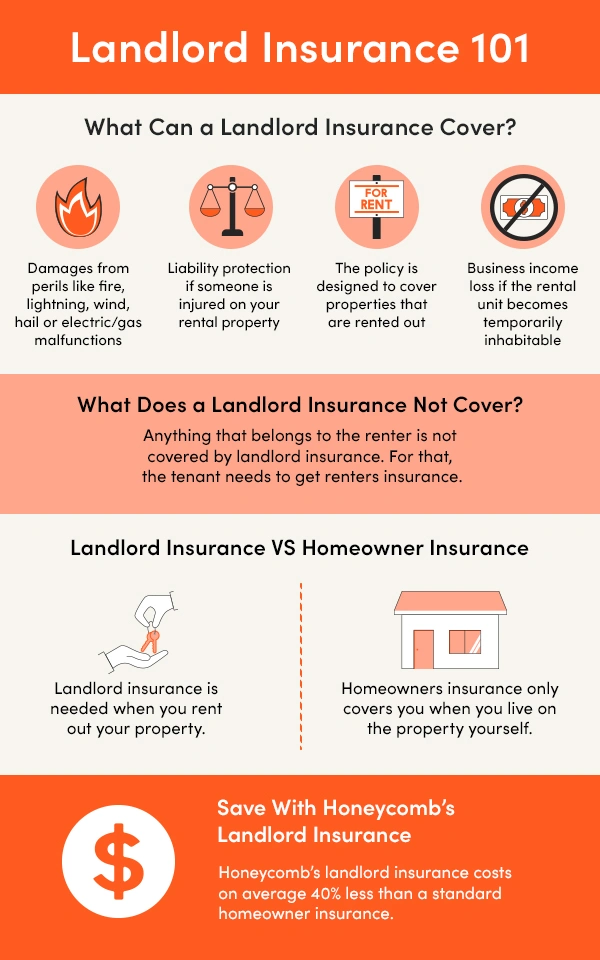 Special considerations when getting landlord insurance in Georgia
There is no state law that specifically requires landlords to have insurance in the state of Georgia. If you take out a mortgage to buy the rental property, your lender may require it though as a precautionary measure. That being said, having a rental property without the proper insurance coverage is not advisable. Remember that this insurance is not just about the property itself, but also about the added liability risks that come with having tenants and third-party visitors.
Being on the Atlantic coast and not far from the Gulf of Mexico, Georgia's coastal regions are susceptible to hurricanes and tropical storms, especially during the Atlantic hurricane season (June to November). Georgia also falls within the region known as "Tornado Alley East." Tornadoes can occur throughout the state, particularly during the spring months.
Certain perils from extreme weather, such as damages caused by flooding, will typically be excluded from any kind of property insurance. If your property is in an area that is prone to flooding, the National Flood Insurance Program can provide extra coverage and is available in many participating Georgia communities.
Can a landlord require renters insurance?
There is no law that prohibits local landlords from requiring renters insurance. If you as the landlords wish to require the tenant to get renters insurance, it's wise to add it to the rental agreement. The price of renters insurance will vary, but the average in Georgia was $194 per year according to nerdwallet.
How much is landlord insurance in Georgia?
The price of landlord insurance will vary greatly according to the following factors:
Property size
Location
Standards and facilities
Coverages, limits, and deductibles
Personal insurance history
Therefore, it's extremely difficult to give an estimate for the average landlord insurance cost in the state. According to simplyinsurance.com, the average monthly cost for landlord insurance in Georgia is $1,641 per year, which is higher than the national average of $1,288. If you own a rental property in Georgia, you can get a quote from Honeycomb to see how much your property would insure for.
Is Georgia landlord friendly?
As Georgia's landlord-tenant laws tend to favor the landlord, Georgia is generally considered to be one of the most landlord-friendly states in the country. Property taxes are generally low, around 0.83%, there is no limit to how much you can charge for security deposits. The law also doesn't specify if you need to give notice before entering the rental property, even if it's not considered an emergency.
Georgia is one of 25 states where rent control is not allowed, meaning local authorities are prohibited by state regulations to impose any form of rent regulation. This means local landlords can set rent and increase it as they please. For tenant retention purposes, it's wise to include any potential rent increase in the lease agreement.