Depending on the details of your coverage, your policy could be anywhere from 20 pages to more than 100 pages. This may seem overwhelming, but once you identify the key elements, you can focus the parts that matter.
Different insurance companies do things slightly differently, but the basic information is always the same. At the beginning of the policy, you will see the declarations pages. These pages outline basic information, including:
The policy number. Needed for policy questions, changes and claims.
The policy's effective date. When coverage goes into effect.
The policy's expiration date. When coverage ends, if you don't renew it.
The insured's name and address. The address the carrier will use to communicate with you about your policy.
The address of the property you are insuring. This may be different from the insured's address – make sure it's correct.
The policy coverage. Your policy may include multiple types of coverage.
The policy limits of liability. The maximum amount your policy will pay in the event of a claim – different coverage types may have different policy limits.
The policy premium. How much you pay for coverage.
The deductible. Your out-of-pocket responsibility if you file a claim.
Understanding your building limit (replacement cost)
Your building limit is the amount of coverage you have for physical property damaged by a covered peril, such as a fire or windstorm. If you have more than one building – such as a main building and a detached garage – the coverage limits may be listed separately.
When you're checking your building limit, also check the valuation. If your policy uses replacement cost value, it will pay the cost to rebuild or repair your property up to the building limit. However, if your policy uses actual cost value, your policy will only pay you the current value of your property, minus depreciation. This is not an area where you want to cut corners to save money. Make sure your building limit is high enough to cover your property's replacement cost.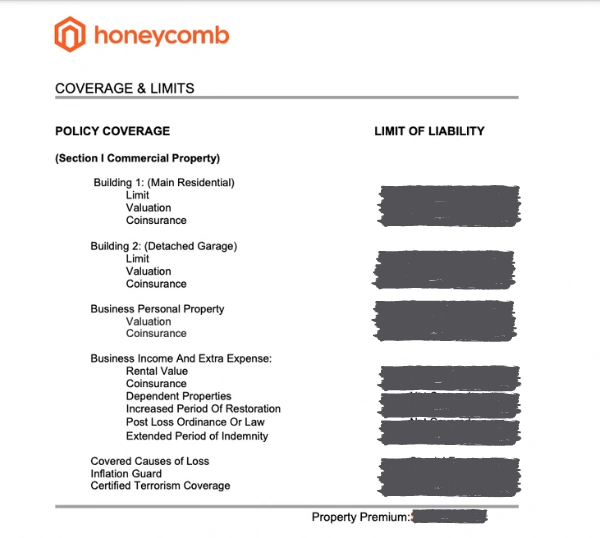 Underinsuring and overinsuring your property
Imagine a worst-case scenario in which a fire destroys your property. If your limits are high enough to cover the cost to rebuild, you will have the insurance you need to recover and will only have to pay the deductible. However, if your limits are not high enough to cover the cost to rebuild, you will be on the hook for the difference. If you don't have the necessary funds, you might be unable to rebuild and could lose out on your rental income.
Furthermore, the coinsurance clause means you could end up paying more for being underinsured, even if you don't experience a total loss. If the insurance company waives the coinsurance, you do not need to worry about paying coinsurance. However, if the company does not waive your coinsurance, you must maintain a limit that is a percentage of the property's replacement cost. For example, if your property's replacement cost is $1,000,000 and you have a 90% coinsurance requirement, you need to maintain a limit of at least $900,000. If you do not maintain this limit, the coinsurance penalty will apply to all claims, regardless of their size. Check your policy for the coinsurance requirement and make sure your limits are high enough to avoid unexpected penalties.
Overinsuring your property is also a risk. As Cameron Moore explains on BiggerPockets, market value includes the value of the land, but insurance does not. This means the market value can be considerably higher than the replacement cost. If you're insuring your property for the market value instead of the lower replacement cost, you may be paying much more for coverage than you need to.
Your goal is to insure your property for the full replacement cost – not more, not less. Because the replacement cost can change in response to inflation and supply chain issues, you can also secure an inflation guard endorsement.
General liability coverage
Another key element of your landlord insurance is your general liability coverage. This coverage covers you against certain third-party claims – for example, if someone is injured on your property and sues you for negligence.
The limit for each occurrence is the maximum amount your policy will pay for a single lawsuit. Your aggregate limit is the total amount your policy will pay during the policy term. If you face multiple lawsuits, each one will count toward your aggregate limit.
You may have other limits for specific types of liability coverage. For example, any coverage for advertising injury claims – such as defamation or copyright infringement – may have a separate limit. It's also common to have a separate (and generally much lower) medical expense limit that can cover injury claims on a no-fault basis and without the need for a lawsuit.
As lawsuits and medical costs can be expensive, this is another area of coverage where you do not want to cut corners.
Deductibles and premiums
When considering your own expenses, there are two main costs to bear in mind: the premium and the deductible.
The premium is the amount you pay for coverage – you pay this amount whether or not you file a claim. Since you may have multiple premiums for different types of coverage (as well as a policy fee), look for the total premium to see how much you'll need to pay.
The deductible is the amount you're responsible for if you file a claim. Your main deductible will apply to most covered perils under your property coverage, but you may have separate deductibles for certain losses, such as windstorm damage. Most deductibles are a dollar amount, but some may be based on time periods. For example, if you have a 72-hour deductible for business income loss, your policy will not cover the first 72 hours of loss. Higher deductibles are associated with lower premiums, and vice versa, but you need to remember that you'll be responsible deductible if you file a claim. Find a deductible that matches your budget and comfort level, and don't be tempted to accept a deductible that you can't afford.
Policy enhancements
Beyond basic building and liability coverage, you may want certain enhancements. For example, property insurance typically excludes water backup losses, but you can add an enhancement to secure this coverage.
Other common enhancements include ordinance or law coverage, equipment breakdown coverage, and hired and non-owned auto insurance. You may also want directors and officers liability insurance and employee benefits liability insurance. If you have these coverages, they will be listed in the declarations section, along with their limits.
Understanding your landlord policy
After the declarations section, you'll see the various coverage forms that pertain to your policy. This is where you find the nitty-gritty information about your policy, including covered perils and exclusions. These forms use technical language. For an overview of the key issues that impact your coverage, see the landlord and rental property insurance guide.
Your landlord insurance coverage doesn't need to be hard to understand. Honeycomb makes it easy to receive customized coverage at affordable rates. Get a quote.