Situated in the southeast right in between Virginia and South Carolina, North Carolina is the 9th most populous state in the U.S with over 10 million residents. North Carolina is known for its diverse economy and vibrant real estate market, with around 66% of properties being owner-occupied and 34% being rentals with a median gross rent being $1,880 according to Zillow. The same site also named the state's biggest city Charlotte as the hottest housing market in 2023.
What is landlord insurance?
Landlord insurance differs from homeowner's insurance as it specifically caters to properties that are rented out, ranging from single-family homes to apartment buildings that are used primarily for residential purposes. Mixed-used properties, such as a 4-unit condominium with a beauty parlor in one of the units can also be insured with a commercial landlord insurance policy.
Although there are some similarities between standard homeowners insurance and landlord insurance, it is crucial to recognize that renting out a property transforms it into a business endeavor. As a result, landlords should address their needs as business owners rather than just property owners.
Landlord insurance provides tailored coverage to address the additional risks associated with renting out a property. In addition to protecting the structure of the home, this type of insurance policy usually has a more robust liability coverage package than a standard homeowners insurance policy, including general liability. Landlord insurance can also offer coverage for lost rental income in certain circumstances.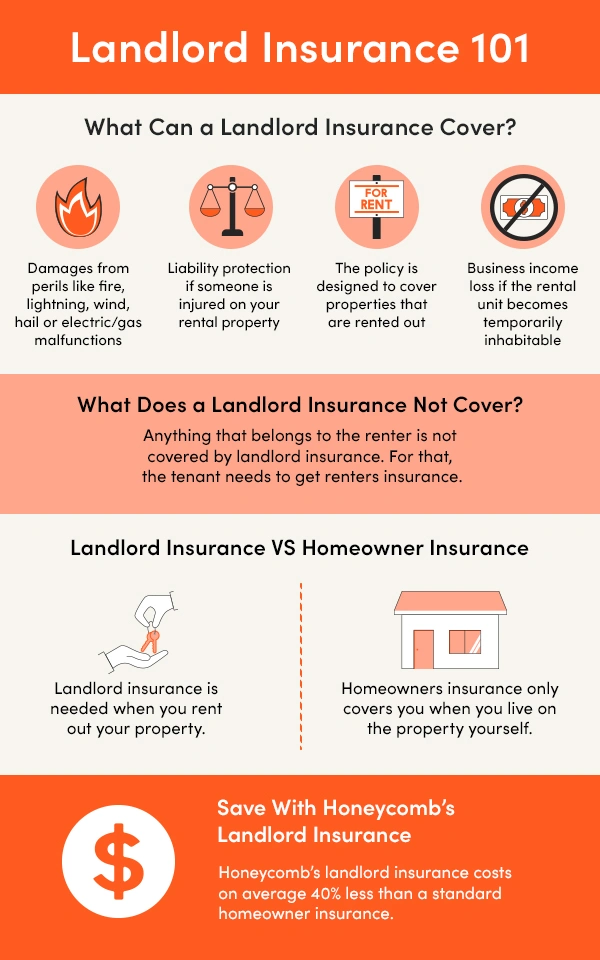 Special insurance considerations for landlords in NC
In North Carolina, there are no specific legal requirements mandating landlords to have landlord insurance. However, it's important to note that standard homeowners insurance policies may not cover rental properties adequately. It's therefore strongly recommended that landlords in North Carolina to obtain landlord insurance tailored to their rental properties.
Despite being located on the Atlantic coast, North Carolina declared a relatively low number of natural disasters in 2022. With most of the major cities being located inland, damages from hurricanes in North Carolina tend to have less of a devastating impact compared to f.ex New Jersey or Florida.
Nevertheless, if you own a rental property in North Carolina, wind and hail coverage may be one of the coverages you should pay extra attention to. That being said, it's important to note that hurricanes and damages from floods are common exclusions in many insurance policies, and you might want to opt for extra flood insurance through the Federal Emergency Management Agency.
Can a landlord require the tenant to get renters insurance in North Carolina?
There are no specific North Carolina state statutes that require landlords to mandate renters insurance for their tenants. However, landlords in North Carolina generally have the right to establish rules and requirements as part of their lease agreements, including the requirement for renters insurance.
How much is landlord insurance in North Carolina?
According to clovered.com, the average price of landlord insurance in NC was $1,967 for a $200,000 home, but this is a very general average and the price can vary greatly according to the following factors:
Size of property
Location
Property standards and facilities
Coverage limits and deductibles
Additional coverages
If you own a rental property in North Carolina, you can submit a quote with Honeycomb Insurance here to see how much your rental property would insure for.
Is North Carolina considered landlord friendly?
North Carolina is generally considered to be a landlord-friendly state, mainly due to its legal framework. The state has established streamlined eviction procedures, allowing landlords to efficiently regain possession of their property through the summary ejectment process.
Landlords in North Carolina also have considerable flexibility in setting lease terms, including security deposits, late fees, pet fees, and rules pertaining to lease termination and renewals.
Unlike some other states, North Carolina does not impose statewide restrictions on rent increases, granting landlords the freedom to adjust rent prices as long as proper notice is provided to tenants. Additionally, the local law permits landlords to access rental properties for various reasons, such as inspections, repairs, and showings, as long as reasonable notice is given to the tenant.