Whether you're aiming on being a full-time landlord or just managing a rental property as a side gig, Ohio is a great option for investing in real estate. With a population of nearly 12 million (2023) and almost 35% of the residents in the Buckeye State being renters, there is a large and diverse rental property market. Being a landlord does however come with some significant risks, and in order to protect yourself from the repercussions of these risks, you need the best landlord insurance in Ohio.
What is landlord insurance?
Landlord insurance, or rental property insurance, is designed specifically for properties that are being rented out, unlike homeowner's insurance, which is intended for properties occupied by the owner. As the risk assessment for a rental property is different from that of an owner-occupied property, it's very important to have an insurance policy that provides customized coverage to address the additional risks involved in renting out a property.
In addition to protecting the physical structure of the home, this type of insurance typically offers a more comprehensive liability coverage package, including general liability and medical expenses coverage. Landlord insurance can also provide coverage for loss of rental income in certain cases where the rental property becomes temporarily uninhabitable.
Who needs landlord insurance?
Anyone who rents out a property to tenants, whether it's a single-family home, a multi-family unit or a large apartment complex, should absolutely get landlord insurance. When you start renting out a property, you need to first and foremost approach it as a business and protect your assets accordingly.
While the state legislation in Ohio may not require landlords to obtain insurance, operating a rental property business without any insurance coverage is risky and leaves you vulnerable. Landlord insurance is not just there to protect the dwelling itself, but also the potentially increased liability risks that comes with having others reside on the premises rather than yourself. Even though a lease agreement can give you some protection and the state of Ohio does not prevent you from demanding the tenant to get renters insurance as part of the lease, it does not make up for lack of proper insurance coverage.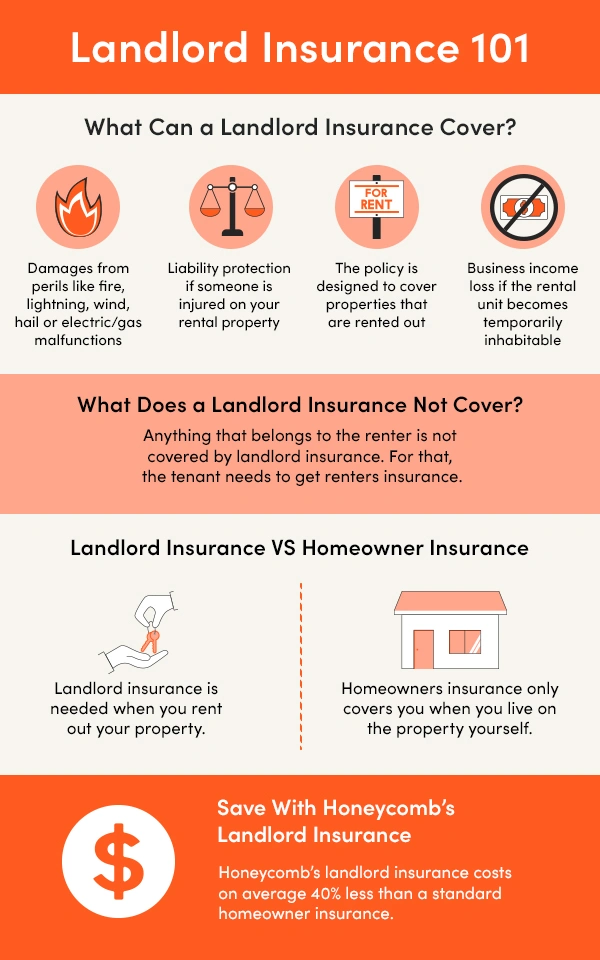 Special Considerations for Landlords in Ohio
Compared to the rest of the U.S, Ohio has a relatively low frequency of natural disasters. That being said, Ohio experiences a diverse range of weather conditions throughout the year due to its location in the Midwest region of the United States. The local weather is also influenced by its proximity to the Great Lakes and the Appalachian Mountains, which can result in varying weather patterns and sometimes rapid changes in temperature.
Ohio is part of the tornado belt, also known as "Tornado Alley." While the primary Tornado Alley is located further west, covering parts of Texas, Oklahoma, Kansas, and Nebraska, there is a secondary region known as the "Dixie Alley," which includes parts of the lower Midwest and the southeastern United States. Ohio falls within this secondary tornado-prone area.
How much is landlord insurance in Ohio?
According to simplyinsurance.com, the average price of landlord insurance in Ohio is around $91 per month or $1,093 per year. This is significantly lower than the national average of around $126 per month or $1,516 per year, but keep in mind that this is an average only and the price of the insurance will vary according to:
Size of property
Location
Standards and facilities
Coverages, limits, and deductibles
Personal insurance history
The best and most accurate way to find out exactly how much your rental property would insure for is by getting a quote. You can get a quote from Honeycombinsurance here.
Is Ohio a landlord-friendly state?
Ohio is generally considered to be landlord-friendly. The state's laws and regulations tend to favor landlords and protect the rights of the property owner first and foremost. For example, the eviction process is relatively straightforward and can be quicker compared to some other states.
If a tenant fails to pay rent or violates the lease agreement, landlords have legal mechanisms to initiate eviction proceedings. Ohio also does not have any statewide rent control laws, which means landlords have more flexibility in setting and adjusting rental rates.
It's important to note that landlord-tenant laws can change over time, and it's advisable to consult with a legal professional or refer to the most current Ohio landlord-tenant laws and regulations to ensure you have the latest information.