Wind and hail catastrophes are not just limited to certain parts of the country, such as the infamous Hail Alley or Tornado Alley. According to NOAA, 2021 was the third-costliest year on record for weather-related damages in the United States.
Wind and hail insurance provides important protection. For homeowners and landlords, roof replacement is one of the largest property expenses you can incur. Furthermore, the lack of a well-maintained roof can lead to further interior damages to your building, which can contribute to loss of rental income and tenants.
What Is Windstorm Insurance?
Windstorm or wind and hail coverage is a common insurance coverage for property owners. It is either included in a standard homeowners policy or excluded, depending on the region your property is in or your carrier's underwriting guidelines. In some areas, wind and hail coverage may be a requirement if you have a mortgage.
Wind and hail insurance is most relevant in coastal areas and flat, open areas without much change in elevation. The states most prone to wind and hail damage include:
North Carolina
South Carolina
Louisiana
Alabama
Mississippi
Each of these states has a common characteristic that makes them more prone to wind and hail – being close to the coastline. Homeowners and landlords may not be legally obligated to carry windstorm insurance in these high-risk areas, but many mortgage lenders require it because it provides important protection for their investment. Landlords and homeowners may purchase it for the same reason.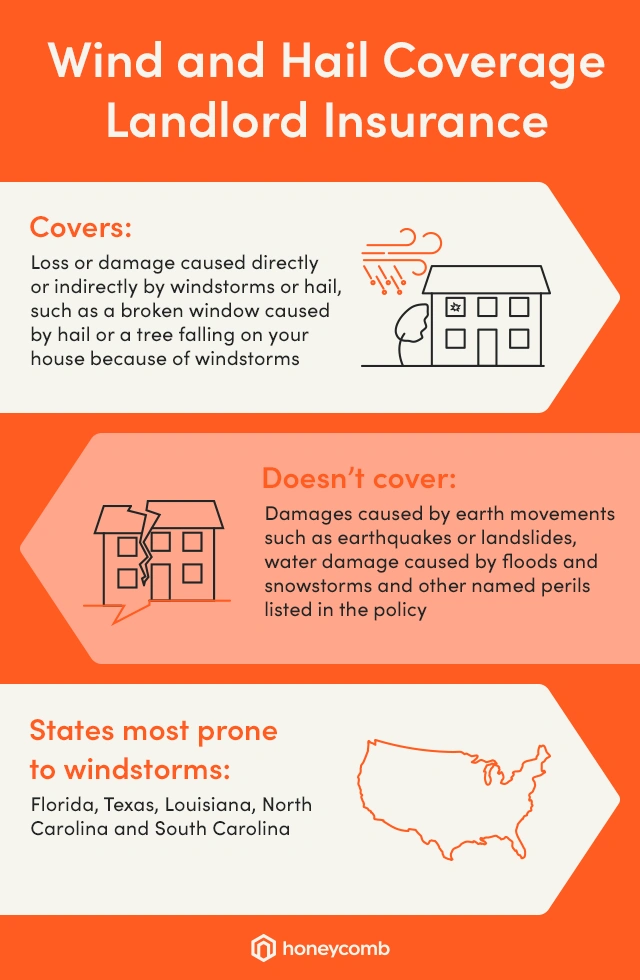 What Does Windstorm Insurance Cover?
Windstorm insurance covers the named perils of wind and hail. Typically, a windstorm policy does not cover wind or hail damage from any peril not named in the policy. This could include perils such as hurricanes or snowstorms.
In most states, windstorm coverage is included in a standard homeowners or commercial insurance policy. However, in 18 coastal states and Pennsylvania, windstorm coverage is not included and may be purchased in a separate policy.
Honeycomb includes windstorm coverage in all insurance policies.
Wind and Hail Deductibles and Cost Options
Wind and hail deductibles are an important part of windstorm insurance and may have a large financial impact depending on which area of the country you are in.
Insurance policies sometimes have separate deductibles for different types of losses. The wind and hail deductible is a separate policy provision that applies a higher deductible to a loss caused by wind or hail. Normally, the wind and hail deductible is calculated as a percentage of a dwelling or property limit rather than a flat limit. Windstorm deductibles are often between 1% and 5%. In many coastal states such as the Gulf Coast states, carriers have filed for higher deductible limits in the event of a named peril loss from a storm such as a hurricane.
According to the Insurance Information Institute, insurance companies are usually responsible for determining what the windstorm, wind and hail or hurricane deductible should be and when it should apply. However, in Florida, state law governs these issues. Hurricane deductibles are found in nineteen states and the District of Columbia.
Usually, windstorm coverage costs will depend on the cost of your underlying homeowners or commercial property policy. The cost of adding windstorm coverage to your existing policy will depend on the state you live in and the cost structure of your insurance policy. The best way to find out how much you might pay for a windstorm insurance is to get a quote. For a property insurance quote from Honeycomb that includes windstorm coverage, click here.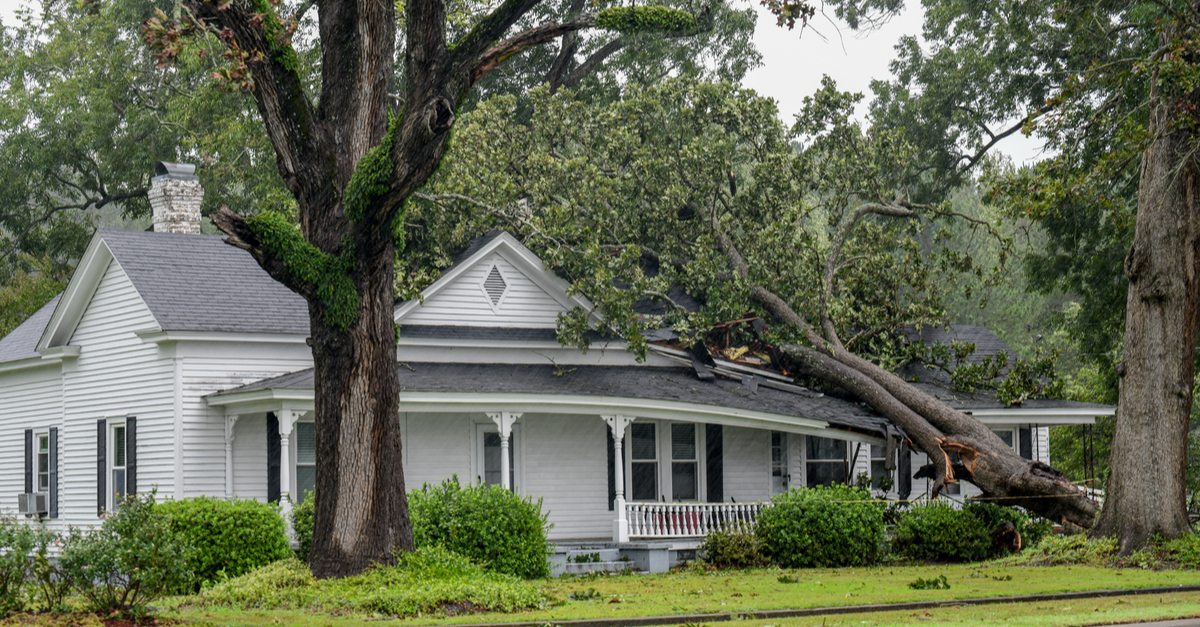 How to Protect Yourself from Wind and Hail Damage
Inside your home, the most vulnerable parts of your home are windows and glass doors. Windborne debris can crack or severely damage your property's windows. To prevent this, protect your windows and doors with storm shutters. In addition, you can install storm-proof impact glass or shatter-resistant film to reinforce your existing glass entrances.
Entryways and garage doors are also vulnerable. These can get damaged or fail under intense wind pressure. You can protect these doors using heavy deadbolts and girts for reinforcement.
Outside your home, the roof is the most vulnerable part of your home. As the first line of defense, it's important to protect your roof from wind and hail damage. Some things you can do to protect your roof from wind and hail damage include:
Re-adhere any loose shingles or boards.
Install roof strappings to anchor the roof onto the walls of your house.
Consider using impact-resistant shingles if you replace or repair your roof.
Avoiding wind and hail damage from miscellaneous debris can be just as important as protecting your home itself. Securing objects outside your home including spouts, furniture, trash cans and gutters can prevent self-inflicting damage. Furthermore, make sure to regularly maintain trees and bushes close to your home so they don't grow any branches that may break off in a strong windstorm.
To read more about how to protect your property from wind damage, check out FEMA's guide to protecting your property.
Key Take-aways
Windstorm insurance is a common coverage option for property owners and landlords around the country. Because it is one of the most frequent perils for claim activity in the U.S., it's important to secure windstorm coverage and take precautions to reduce the severity of losses.
To find out if you need wind and hail insurance, talk with a Honeycomb insurance representative today or request a quote.