There are a lot of risks associated with owning and renting out an apartment building, and a basic homeowners insurance policy is simply not enough to cover all of them. As a landlord, you have to make sure you're protected against everything from storm and fire damage to lawsuits and medical expenses.
Having the right apartment building insurance policy in place will ultimately help protect your income from your rental business.
What kind of insurance policy does an apartment building need?
A multifamily apartment building, no matter how big or small it is, needs to be treated like a commercial business. And as such, you need to get comprehensive landlord insurance to cover all your bases.
This type of apartment building insurance works for buildings with as few as three or four units, all the way up to those with hundreds. It is specifically designed to protect you from all the additional risks you have to worry about that normal homeowners don't face.
What kind of coverage do you have in a standard landlord insurance policy?
A standard landlord insurance policy includes two main types of coverage: property coverage and liability coverage. Depending on what's offered by your policy's provider, you may also be able to choose from a variety of additional coverage options when selecting your policy.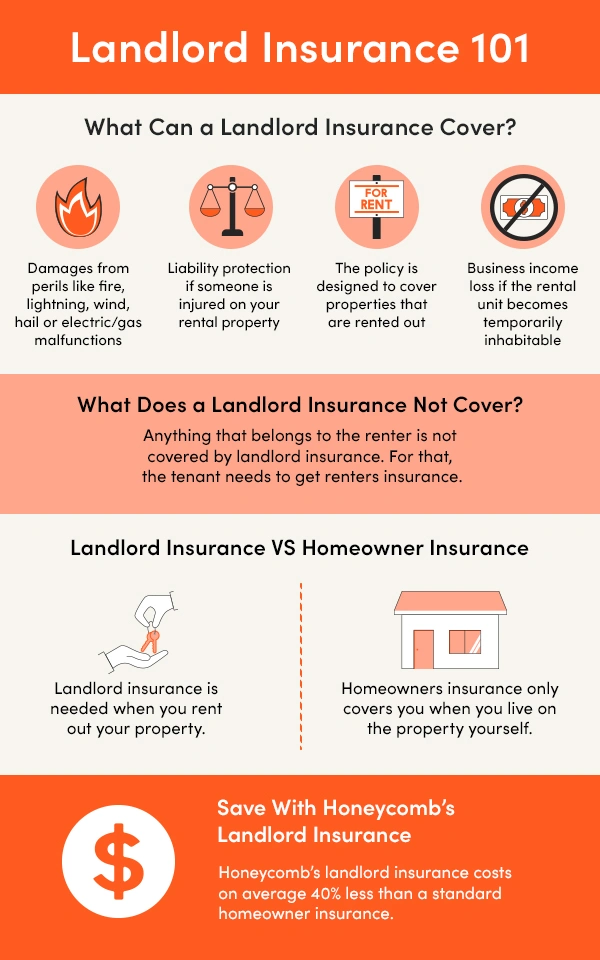 Property coverage
The first major part of building insurance for apartment owners is known as commercial property insurance coverage. This type of apartment owner's insurance coverage applies to the physical structure of your property and protects against damages from specific events, known as perils.
Examples of perils (damages) that commercial insurance for apartment buildings can protect against include:
Wind and hail
Lightning
Fire and smoke
Water
Earthquake
Vandalism
Certain types of peril coverage, like wind and hail coverage, are pretty standard in most multifamily insurance policies for landlords. However, depending on the local level of certain risks, other types of damage coverage may be either required or optional. For example, earthquake coverage may not be required if your property is nowhere near a fault line. There are also some very specific types of optional peril coverage you can get, such as certified terrorism coverage, which applies to damages caused by terrorist attacks.
No matter what perils your apartment building insurance policy names, the damages covered are those to the residential building itself, as well as all other structures on your property, including things like pools, fences, storage buildings, parking structures, and other outbuildings. So, in the unfortunate event that one of the perils covered by your insurance damages any part of your property, the insurance will help pay for repair and replacement costs.
Tip: Make sure to check whether your apartment building insurance policy pays the full replacement cost or the actual cash value when there is damage.
Liability coverage
The second biggest part of insurance for apartment building owners is liability coverage, which mainly provides protection against lawsuits and medical bills. For example, general liability insurance can cover you in the event that someone gets injured on your property due to negligence and sues you.
Tip: If your property includes any commercial spaces that you rent out to other businesses, such as offices or restaurants, make sure they get commercial general liability insurance that offers coverage known as "damage to premises rented to you."
Additional property coverage options
Besides the major types of apartment building insurance coverage discussed above, there are some more niche types of coverage you may be interested in adding to your policy. These include:
Business income coverage
Enhanced ordinance and law (A/B/C)
Water backup
Employee dishonesty
Forgery or alteration
Computer fraud
Electronic data
Business income coverage
One big type of apartment building insurance coverage add-on that you may want as a landlord is business income coverage, also known as business interruption coverage, or just BIC.
This type of insurance helps reduce your income losses if something major happens that prevents you from collecting rent as you normally would.
For example, if there's some type of major damage to your property that causes tenants to move out, business income insurance can reimburse you for some or all of the income you lose while you take time to repair the building and rent the unoccupied units out again.
Business interruption coverage may also help pay additional operational costs, including employee wages, mortgage payments, and property taxes.
Enhanced ordinance or law (A/B/C)
Enhanced ordinance or law coverage is an endorsement that can be added to some multifamily insurance policies.
This type of coverage reimburses additional costs related to bringing a building up to code, making it ideal for landlords who own older apartment buildings that may be outdated in terms of ordinance and law.
There are three parts of enhanced ordinance and law coverage, labeled A, B, and C, which specifies what the coverage applies to.
A (costs to replace undamaged parts of a building): covers costs to replace parts of a building that weren't damaged in order to bring the whole building up to code.
B (demolition costs): covers the costs of demolishing whole portions of a building to bring it up to code.
C (increased construction costs): covers the costs of updating your entire property to meet local building codes and laws.
Water backup
Water backup insurance covers you in the event that there is damage to your property from a clogged sewer line, a backed-up drain, or something similar.
Employee dishonesty
Employee dishonesty coverage compensates you for damage or financial loss caused by an employee's dishonest actions.
Forgery or alteration
Forgery or alteration coverage protects you against losses due to the forgery or alteration of checks, bank drafts, or other financial instruments.
Computer fraud
Computer fraud coverage insures you against digital theft of funds related to your rental business.
Electronic data
Electronic data coverage protects sensitive data on your computers and other electronic devices.
What will typically not be covered under a standard apartment building insurance policy?
There are a few things that insurance policies for apartment complexes usually don't cover, including:
Renters' property
Personal property you left in the apartment (unless it's built-in)
Common exclusions, such as:

Floods
Mold damage
Intentional tenant damage
Renters' property
Damage to renters' property, such as water damage or fire damage to their furnishings and belongings, is not covered by standard building insurance for apartments. This is why you may want to consider requiring your tenants to get renters insurance to provide yourself with extra liability protection.
Personal property you left in the apartment
Most apartment insurance policies for landlords also don't cover any personal property you leave in the apartment, such as personal furniture or other belongings you leave in a storage unit. That being said, some insurance policies allow you to build optional coverage for damage to your personal property into them.
Common exclusions
An exclusion is a statement in an insurance policy that describes specific losses the policy does not cover. Some of the most common exclusions in apartment building insurance include flood damage, mold and mildew damage, and deliberate damage caused by tenants.
Other common exclusions are damage caused by lack of maintenance, pest damage, and normal wear and tear. Again, different insurance providers may offer optional coverage add-ons for these types of exclusions.
What are some of the most common risks you face as an apartment building owner?
As we touched on earlier, apartment building owners need landlord insurance instead of homeowners insurance because they face more risks than traditional homeowners do. Some of the most common threats that apartment landlords have to worry about are:
Injury to tenants or employees on the property (due to negligence)
Damage from natural disasters/accidents (like fires and storms)
Intentional damages by tenants (or acts of vandalism)
Theft (by employees or tenants)
While there are some similarities between commercial insurance for apartment buildings and standard homeowners insurance, such as coverage for physical damages, homeowners insurance policies usually don't provide enough coverage for even small apartment buildings.
How much does apartment building insurance cost?
There's no one-size-fits-all insurance policy for apartment building owners, and how much apartment building insurance costs depend on a variety of factors. Apartment building insurance rates are affected by the following:
Age and location of the property
Size of the property/number of rental units
Condition and age of key elements (e.g., roofing, plumbing, electrical)
Building materials
Risk factors for certain perils (e.g., hurricane zone, fault line)
Security measures (e.g., fire protection, earthquake resistance)
Additional coverage options selected
Tip: When you're comparing apartment owners' insurance costs, make sure to compare the deductibles of each policy to help you choose the right one.
Key takeaways:
If you don't have the right insurance in place for your apartment building, all it takes is one major property damage or liability incident to significantly hurt your rental business. That's why you need to make sure to choose a landlord insurance policy with the right amount of coverage for your property based on a variety of risk factors.
Apartment buildings need commercial landlord insurance
Homeowners insurance doesn't provide enough coverage (even for small buildings)
Commercial property and liability coverage are vital
Consider business income insurance to protect against lost rental income
Look at additional property coverage options to protect against unique situations
Make sure you know what your policy doesn't cover
Assess what risks your property is most likely to face